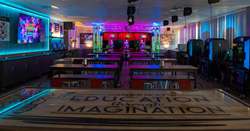 The AniMakerspace is what gets kids excited to come to school.

REDLANDS, Calif. (PRWEB)
October 08, 2020
If you've been to a popular theme park, you've seen one of Garner Holt's creations. The impressive technique of magically bringing fantasy characters to life is what makes us all feel like we've escaped reality and can fully embrace the fun of being part of the story.
Imagine that same magic applied to learning about science, technology, engineering, art, and math. This is precisely what Garner Holt Education through Imagination has done. Where other STEM or STEAM programs may be successful with separate subject focal points, the unique…