Regional News of Saturday, 28 November 2020
Source: GNA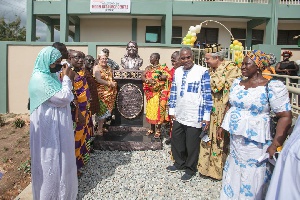 The YMRC is fully funded by the HAF and FYF
Nana Akwa II, Sumankwahen of Nkusukum Traditional Area said the coming of Helping Africa Foundation (HAF) and Friends of Yamoransa Foundation (FYF) has helped the people of Yamoransa to achieve their educational goals and objectives.
He said the HAF and FYF were now members of the Yamoransa community who formed a solid link between them and the rest of the world and that through their association with the community, one can read about Yamoransa on the internet.
Nana Akwa was speaking at the ceremony to re-dedicate the Yamoransa Model Resource Centre at Yamoransa in the Central Region.
The YMRC is fully funded by the HAF and FYF and managed by IMPLEMENTERS, a Ghanaian based project management non-profit that works with philanthropists, NGO's and corporate institutions to…