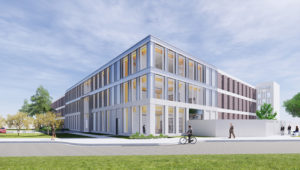 Construction has begun on Carleton University's all-new Engineering Design Centre, Ottawa, Ont., for its Faculty of Engineering and Design (FED).
The $16-million, 2323-m2 (25,000-sf) facility will connect to Carleton's existing Mackenzie Building and provide dedicated space for undergraduate students as they collaborate on fourth-year capstone design projects.
Designed in a joint venture by Diamond Schmitt Architects and KWC Architects, the three-storey structure will feature a maker space, design studios, workshop bays, central atrium, and meeting and lounge spaces.
"The best learning environments inherently combine both theory and practice," said Larry Kostiuk, FED Dean. "By investing in this newly…