Regional News of Wednesday, 18 November 2020
Source: GNA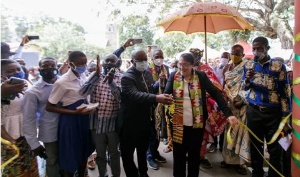 Dr Deborah Rose at the commissioning of the 6th ICT Lab built by the HAF and FYF
President of Helping Africa Foundation (HAF) has said the purpose of the Yamoransa Model Labs was a means to expand ICT education across the country in truly sustainable ways to promote teaching and learning.
Dr Deborah Rose said the expansion was also an exemplary propagation of President Akufo-Addo's stirring mantra of 'Ghana Beyond Aid' to make the country self-reliant and digitise the economy.
She was speaking at the commissioning of the 6th ICT Lab built by the HAF and Friends of Yamoransa Foundation (FYF) located at Peki Avetile in the Volta Region.
The well equipped 40-seater ICT laboratory dubbed: "Yamoransa Model Lab 6" which is to provide free ICT literacy in the area has a conference room also for teacher training…