Images are digital simulations of library scenes with photos taken in accordance with public health protocols.   Images: Robert Benson Photography
Following extensive renovations that began in October 2019, the Francis A. Countway Library of Medicine at Harvard Medical School reopened on Jan. 6 with a new look and a host of on-site services, some of which will continue to be limited over the coming months because of the COVID-19 pandemic.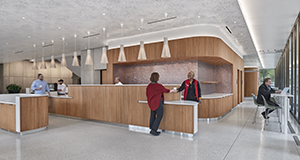 "To deliver on Countway's commitment to innovation, collaboration, academic excellence, ongoing improvements in technology, and diversity and inclusion, we aimed to create a fresh, adaptable, dynamic hub for members of the Longwood community to study, research, gather, and recharge," said Elaine Martin, director and head librarian of the Countway Library.
The wide-ranging renovations allow the library to offer a variety of…